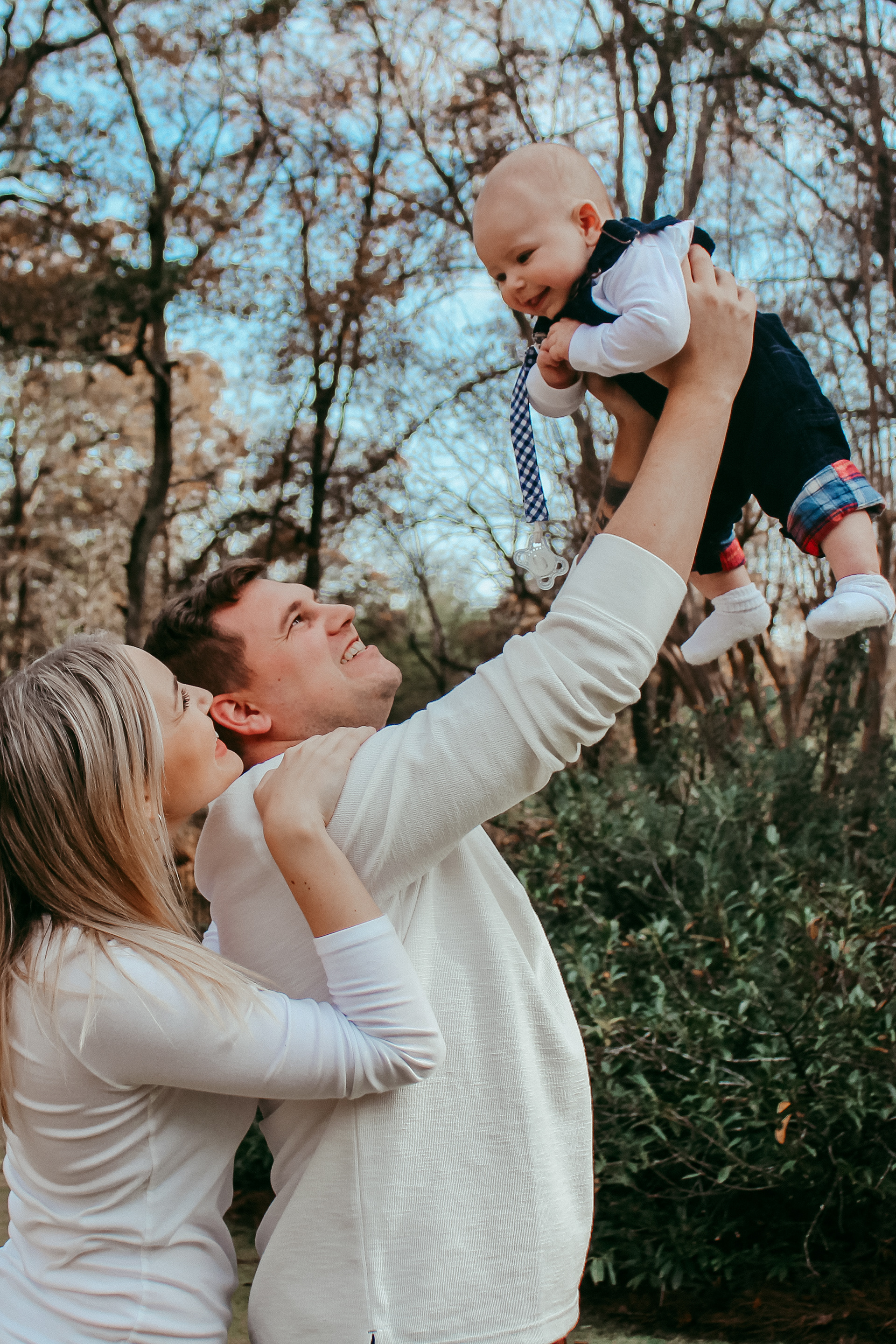 Hi guys!!! I'm Emily! you can find out a quick bit about me on the "about" page, but If you want my full story, and how I found photography, here it is! 
I am a coastie wife, and boy mama. The picture to left is basically my whole entire world, minus our fluffy cat and Great Dane. 
I met my husband when I was sixteen, but I started dating him when I was a sophomore in college. I was at a complete loss at what I wanted to major in or have a career in. I was majoring in Biology, which I have absolutely zero interest in. When I started dating my husband, we knew from date number one we were meant to be! He was home on leave and when I visited him the following month in Texas, he proposed. (you know how us military folk like to get married on the first date) At 19 years old, I accepted! I left school, and in the year we spent planning our wedding, I went to yoga school. yes, that's right, I thought that was my calling! But as the smell of the essential oils wore off, I realized I am no where near as comfortable guiding a class to nirvana as I thought I would be. Great experience, buttt not my calling.
Flash forward, we got married in May of '18. I packed up my ridiculously fluffy white cat and we moved across the country to join my husband in the sparking city by the sparkling sea…Corpus Christi, Texas. Except, I don't think any one has called it the sparkling city in over 60 years, because the only thing that sparkles is the trash on the beach. (But love was worth it all.) 
In Texas, I continued to search for my calling, I dappled in real estate, veterinary technology, cosmetology, optometry, day care, waitressing, (and let's not forget yoga) with no success. 
As I grew more lost and more sad, my husband and I sparked the idea that I needed a new friend. And since I struggled to fit in with the Texas wives, we drove down to San Juan Texas, past three boarder check points, to adopt our dog. Chi chi, the Greatest of Danes. Chi Chi is wonderful company, but something was still amiss. Although I knew I couldn't do it forever, I stuck to cocktail waitressing…and just as our marriage neared 5 months…I became pregnant! and another 6 months later we moved to Mobile, AL. 
so let's get to how I found photography! 
While I thoroughly enjoyed avoiding the heat of a south Alabama summer by sitting on the couch all day, watching "Heart of Dixi" and eating powdered donuts off my shelf of a belly, I knew I needed hobby if not a part time job. So I dug through my closet and pulled out a Nikon D3500 camera my parents gifted me for my 15th (?) birthday, dusted it off, and offered other coastie spouses some free sessions.
My husband was so supportive and as I fell in love with photography he purchased me new lenses, lighting props, sd cards, editing softwares, and whatever else I needed along the way. I always shot for coastie families and most of my sessions were maternity, senior, birthdays, family, engagements, and the like. 
At 41 weeks pregnant, I finally gave birth to my son on July 25th 2019 (also my husbands birthday!) and from there I was FINALLY sure about two things I was meant to do with my life and those are to be a mother and a photographer.
If you read entire this text book of a blog post I'm writing, I'm sure you feel like you know me by now. So, let me get to know you too! book a consultation and let's schedule the perfect session.